My dear Sarit is going this Sunday on a business trip to IBM offices at Budapest, Hungary.
So we sat today to get some info on the hotel she'll be staying at (Mercure), and the distance from there to the main attractions (a.k.a. Shopping Malls).
Since I was already on a live.com page (I signed her up to a new messenger account since she likes the messenger UI), I went to look for the address on maps.live.com.
The first thing I have noticed is the slick design and cool UI features. It just looks good.
So I went on for the search. Typing the exact address "1052 Budapest, Váci utca 20, Hungary" (note the explicit inclusion of the words "Budapest" and "Hungary"), sent me here: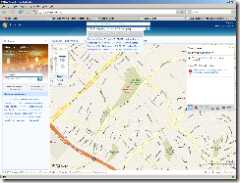 focusing on the funny part: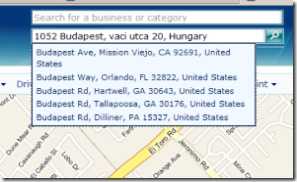 Hmm. not so promising.
Without further ado, I found myself typing "maps.google.com".
The same old boring/ugly/simple google-y look.
Now, typing the same query in the input box gave me: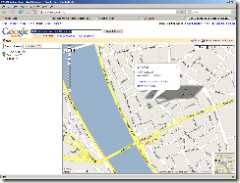 focusing on the place itself: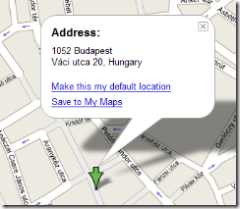 Ta Dam.
I then tried it with different typos. The "Did you mean" thing worked like a charm.
Once again, it seams that MS is concentrating the efforts on the slick UI and cool features, while google is more concentrated on the actual service.
I'd say it's clearly a knockout.
btw, the shopping mall turned out to be VERY close: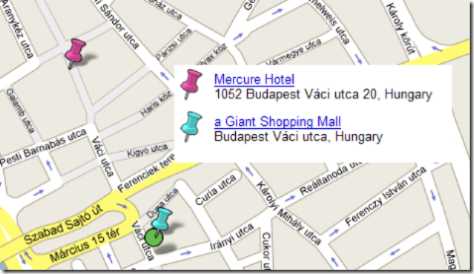 I'll be joining her next Friday for the weekend. Anyone for the good thing to see/do on Budapest? (I'm going for the less toured and more exciting things)